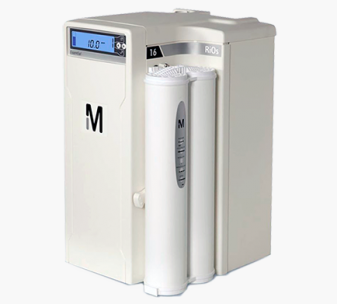 Water is one of the most commonly used solvents in the laboratory.  In some cases, water content is more than 99% of the weight of a solution. Therefore, laboratory water quality is a critical factor in determining the quality and reliability of tests. Based on the quality of purification, water is divided into: Type I, Type II, and Type III quality water. There is also a separate group of water systems designed for analysers.
A Merck water purification system uses several techniques to produce Type III quality water. This water is used for washers, final rinsing of glassware, heating baths, autoclaves, etc.
Any laboratory needs clean water production. For most users, it is associated with high costs and continuous maintenance, the results of outdated water treatment systems which cannot guarantee that the incoming water quality will remain constant over a long period of time. Merck can solve all of the problems related to producing Type III quality water. Merck water purification systems use a number of techniques, and the treated water is suitable for:
- Washers, final rinsing of glassware
- Heating baths
- Autoclaves and other.
To choose the best water system for your laboratory, you should consider several parameters: current daytime and clean water costs, water quality monitoring and certification level, etc.
Our team of professionals would be pleased to discuss these parameters with you in order to help you to choose a laboratory water system that best meets your needs!
Systems
RiOs™
For low daily consumption. For laboratories that are looking for an alternative to individual distillers and small deionization cartridges.
RiOs™ Essential
RiOs™ Essential systems are ideal for laboratories needing reliable, constant production of Type III water from potable tap water. These systems integrate complementary water purification techniques, including pre-treatment and high-performance reverse osmosis (RO) membranes.
Robust RiOs™ Essential systems require very little maintenance thanks to established RO technology and automatic RO self-maintenance functions.  There is just one Progard® pre-treatment pack to change and a new, ergonomic pack locking system lets you do this quickly and easily. 
The RO recovery loop is an important part of the systems, as it extends pre-treatment pack lifetime, and also decreases tap water consumption by 50% or more compared to standard RO systems, allowing users to benefit from low running costs. 
Milli-Q® HR 7000
The Milli-Q® HR 7000 series of high-throughput systems are designed to deliver a central pure water solution both for single laboratories and entire research facilities, feeding their pure water needs up to 13,000 L/day.
www.merckmillipore.com