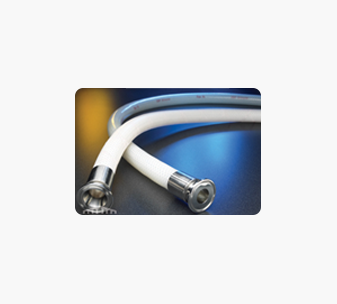 Innovative connection technology with hoses, tubes and fittings made of: fluoropolymers, silicone, thermoplastic elastomers, specialty polymers, stainless steel and plastic (Luer-Lock, MPC, MPX, Tri-Clamp, NPT, M, and G threads). Connective technology products TYGON® for precious fluid transfer by Saint-Gobain Performance Plastics have been used for over 60 years. Saint-Gobain has developed innovative Sani-Tech® Ultra and TYGON® E-3603 phthalate-free flexible tubing.
Tubing
C-Flex® is the original patented thermoplastic elastomer tubing specifically designed to meet the critical demands of medical, pharmaceutical, laboratory and R&D, biotechnological, and diagnostics products applications for fluid processing. A lot of world's leading biotechnology and pharmaceutical companies have been relying on C-Flex® tubing for over 20 years. All C-Flex® biopharmaceutical tubing conforms with the quality standards and are tested before being shipped out of the factory.
PharmaFluor® FEP fluoropolymer tubing meets the highest demands of biopharmaceutical, medical and laboratory applications. PharmaFluor FEP tubing has outstanding chemical and physical characteristics, and is used in stringently controlled processes. In addition to being chemically inert, this tubing can be used at temperatures ranging from -100°F to 400°F (-70°C to 204°C). It is also virtually unaffected by chemical sanitisers and cleaners and can be cleaned repeatedly without decreasing its service life.
PharmaPure® is a premium, biologically compatible peristaltic pump tube developed especially for pharmaceutical, biotechnology and laboratory applications. This tubing meets the challenges of providing unsurpassed pump life with ultra-low particulate spallation and very low permeability. The superior flex life characteristics of PharmaPure® simplify manufacturing process, and reduce production downtime due to pump tubing failures. In addition, PharmaPure has low permeability and is ideal for protecting sensitive cell cultures, fermentation, separation, purification, process monitoring and sterile filling.
Biologically inert PharMed® BPT tubing has been formulated to withstand the rigours of peristaltic pumping action. Being less gas and vapour permeable than traditional silicone tubing, PharMed® BPT is ideally suited for protecting sensitive fluids in a variety of biopharmaceutical operations including media mixing, cell culture, harvest, and purification, process monitoring and control systems. The excellent wear properties of PharMed® BPT tubing simplifies biopharmaceutical manufacturing processes by reducing production downtime, it can also lead to reduced erosion of the tubing interior walls, improving the overall efficiency of filtering systems.
Pharmaceutical industry is seeing platinum-cured silicone PureFit® SPT tubing developed for transfer of high-purity liquids and sensitive biologicals gaining popularity rapidly. It features an inner surface smoothness that inhibits protein binding and bacterial growth and simplifies sterilisation and sanitation.
SaniPure® BDF ™ is a revolutionary innovation in the premium quality biopharmaceutical polymers area. Sani-Pure BDF ™ is certified to be free of materials of animal origin. Its biocompatibility for sensitive biological fluid applications is documented.
This platinum-cured silicone tubing resists temperature extremes, ozone, radiation, moisture, compression sets, weathering and chemical attack, and imparts no odours to fluids transported within it. Sani-Tech® STHT®-C silicone tubing withstands repeated autoclaving, sterilisation, the adherence of blood products and other sanitary fluids.
TYGON® is premium quality flexible tubing choice for sensitive fluid transfer applications. It is a plasticiser-free tubing that utilises the latest in polymer technology. TYGON® tubing is hydrophobic and will resist the absorption/adsorption of aqueous fluids. This reduction in sorption minimises the risk of fluid alteration in single- or repeat-use applications. The smooth inner surface inhibits particulate entrapment on the tubing wall and reduces the potential for bacterial growth and contamination.
Connectors
Colder Products Company (CPC) quick connect and disconnect solutions improve the functionality and design of your equipment and processes.
AseptiQuik® connectors provide quick and easy sterile connections, even in non-sterile environments:
ISO Class 7 aseptic polycarbonate and polysulfone connectors MPX, MP C, Tri-Clamp:
Other quick fittings of general purpose: